Succesful presentation and introduction of ATG at the annual general meeting of the BSK (Professional group of heavy load transports and crane work) in Berlin!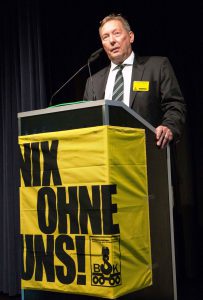 At the first day of the annual general meeting we had the chance to present our company to the audience of specialists. Thankfully we have used this possibility to address aim-oriented a goup of specialists and company owners! And the feedback reassured us, that the journey to Berlin was useful. Directly after the salutation by the new co-manager of the BSK, Mr. Feuerbach, and the speech of Mr. Draaf, longtime manager of the BSK, we held a 15 minute PowerPoint presentation about the concept and the activities of ATG.
The conversations during the breaks and in the evening during the buffet showed that there is a broad interest in the use of our transport crawlers and our concept of all-wheel-tractors in this trade sector. Especially at the evening event we could strike up a lot of high class contacts!
We will be happy to involve ourselves in the BSK and support the iniatives to improve the process of approval for abnormal loads. This issue will affect ACROSS THE GROUND in a short time as well, as the size and weight of our crawlers, that are planned in the near future, will increase.
Many thanks to the organizers of the BSK!