Concept for crawler fire engines

In the near future we will develop and produce turnkey fire fighting crawlers, especially for the use on amunition soiled ground. The will be offered with a lease concept for quick use or they can be bought.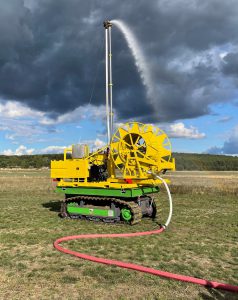 Currently we are involved in the research project ALADIN with the build up of a test plattform. The combination of the body (yellow) on our CT25 crawler shall enable the vehicle on a safe distance of around 1.200 Meters. The project is financially supported by the Ministry for Digital Matters and Traffic and covers the use of a 5G nomadic net, that is send out via a thethering drone. In this network the drones, the fire fighting vehicles as well as the radio traffic.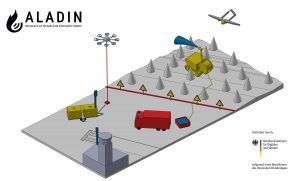 For the use on amunition soiled ground the crawler is remote controlled and there are several camery systems. The vehicle will be guided from a commando shelter, that is connected to the antenna on the thethering drone. One monitor is fixed on a 9 Meter telescopic mast. A second "wildfire monitor" is fixed to the front. The plattform is permanently supplied with water, that is buffered in a tank.
Fire fighting vehicle on Dumper basis

In the coming future we will develop and build bodywork for fire fighting as well as flood rescue that will be fixed on dumper chassis. Here we are talking about a payload (for example water) of up to 16 tons. The wide tracks make a low ground pressure and the vehicles are very capable going cross country. They have a high fording capability as well.